Camino 1.0: The Scoop on Mozilla's New Open Source Browser
Earlier this week, the Mozilla foundation announced the 1.0 release of their open source Mac OS X browser Camino. Camino is the only native Mac OS X browser that uses the Gecko rendering engine, Mozilla's powerful central nervous system that drives Firefox. What this means is that under the hood, Camino is very similar to Firefox. On the outside, however, it is like the OS X applications you know and love. With the growing clout of Firefox, Opera becoming free and last year's Safari RSS, the browser wars can only get more interesting.
Getting Started
Camino has been released as a universal binary, which means that it will run without modifications on your Intel or Power PC based computers with Mac OS X 10.2 or higher (an earlier version, Camino 0.8.4, works with 10.1). Once you have downloaded it, mounted disk image and copied the application to your Applications folder you are ready to fire it up for its first run.
The first thing that struck me was the look of the browser- this was clearly an application built for the Mac OS X (like Safari) and not one ported to it (like Firefox). The first thing I opened was the Preferences. There were only three things worth noting that were different from Safari or Firefox, all of which have to do with reducing the annoyance factors of web sites. First, there is an option to Block web advertising. Then, there is an option to Prevent sites from changing, moving or resizing windows- you know the ones they are talking about. The ones that make your browser window dance and end up shrivelled up in a corner. You can turn that off with Camino. Finally, you can ask Camino to Play animated images only once. So if intense, repeated animations in the corner (or center) of your screen cause you epileptic fits as they do in me, you can have Camino play them once and shut up forever. Hurray!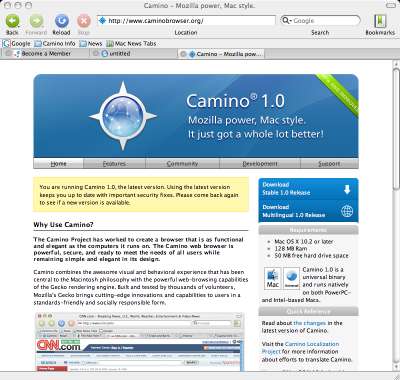 Next, I asked it to import my bookmarks (Edit->Import Bookmarks). It could successfully pull my bookmarks from all the browsers I had installed- Safari, Firefox, Mozilla , Opera and IE for Mac. Yes, I have all five (now six, seven counting lynx) installed. Yes, I know this is not normal behavior. This brought up a very cool Camino feature- the Bookmarks Manager. This is a window that is a browser for your bookmarks, history, Bonjour-shared bookmarks and more. To go here directly, type 'about:bookmarks' in the address bar or by clicking the 'Bookmarks' button in the top-right corner. Clicking this button again will make it go away. This is a nifty feature to manage your bookmarks and in many ways more convenient than the traditional Bookmarks menu. It also includes a 'Search' feature to search your bookmarks or history very easily and a 'Smart Collection' called 'Top Ten List' that is a list of your 10 most visited web sites- which you may not want your browser keeping track of!
Features
Like all modern browsers- except IE 6, but I did say modern- Camino has tabbed-browsing and pop-up blocking features built-in. Java works 'out-of-the-box' and plug-ins for Windows Media, Flash, Shockwave, PDFs, QuickTime and Real are available. The native Mac OS X Cocoa interface is very well designed and sparse, unlike other browser applications. It is also integrated with other OS X applications, such as the Address Book to fill forms a import contact URLs, Spotlight to search bookmarks, Bonjour, Keychain and more. It even takes your System Preferences, like Network preferences into consideration. Just like the newest version of Firefox, Camino includes a single-click method to clear all private data, which is extremely important when sharing computers.
Extending Camino
One interesting way to extend the functionality of Camino is their Hidden Preferences. The way to add these is to create a plain text file called user.js in your home folder under ~/Library/Application Support/Camino. This allows you to tweak some of the features of Camino such as more robust pop-up blocking, disabling images and spoofing the User-Agent to allow Camino to pretend it is another browser.
Extensions are what have made Firefox what it is and Camino will have to keep up if it is to succeed. While plug-ins are available for Camino, the user or developer community has not grown enough to build extensions yet, but considering the track record of the Mozilla Foundation and the similarity of Camino to Firefox, there may be a lot of add-ons available soon. The only stumbling block is that Camino does not support XUL- which is used to define the Firefox interface. So Firefox extensions will not be ported to Camino that easily.
Final Words
Though you may ask why we need another browser, you have to agree that the situation is a lot better than when there were few choices in this arena on any platform. Camino is a great addition to the happily growing world of free browsers; it is well-designed, sparse and very solid. The trouble this browser will face is not that it is not good, but that it is just as good as everything else. And in this marketplace, it will have to be better to be noticed.
Having said that, with the feature wars between IE and Firefox just warming up, it is nice to see a browser not try to be everything for everyone. To paraphrase The Matrix: Does Camino do everything? No, it would say it does enough.