PowerBook G4 (17-inch Double-Layer SD)
Introduced: October 2005
Terminated: February 2006
Description
The PowerBook (Double-Layer SD) did not improve on the processor speeds of the previous models, instead it bumped up the RAM and the screen resolution and, most notably, offered a dual layer SuperDrive. There were two configurations available, the 15.2" model and the 17.1" model.
History
The last release under the very long-lived PowerBook name, the PowerBook G4 (Double-Layer SD) was unusual in that it did not increase the processor speeds. This was probably due in most part to the fact that G4 processor would have been too hot at higher speeds.
Photos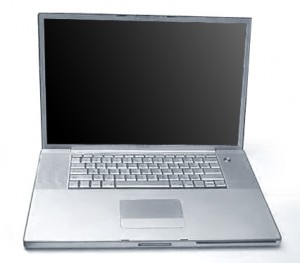 Specifications
Processor: PowerPC 7447B (G4)
Processor Speed: 1.67 GHz
Benchmarks: 1.67 GHz: 879
Cache: 64 KB L1, 512 KB on-chip (1:1) L2
System Bus: 167 MHz
Hard Drive: 120 GB 5400-rpm or 100 GB 7200-rpm
Media: 8x SuperDrive (DVD+R DL/DVD±RW/CD-RW)
Weight and Dimensions (US): 6.9 lbs., 1" H x 15.4" W x 10.2" D
Weight and Dimensions (Metric): 3.1 kg, 2.6 cm H x 39.2 cm W x 25.9 cm D
Original Mac OS: Mac OS X 10.4.2 (8E45)
Later Mac OS:—
Maximum Mac OS: Latest release of Mac OS X
Hardware Test: AHT (PowerBook) 2.5.2
Firmware: Open Firmware
Firmware Update: None
Logicboard RAM: None
Maximum RAM: 2.0 GB
Type of RAM Slots: 2 - PC2-4200 (333 MHz) DDR2 200-pin SO-DIMM
Minimum RAM Speed:—
Interleaving Support: No
Graphics Card: ATI Mobility Radeon 9700
ATI Card Model: ATY,RV360M11
Graphics Connection: 4x AGP
Graphics Memory: 128 MB DDR
Built-in Display: 17-inch (diagonal) TFT (117 dpi)
Resolutions: 1680 by 1050 (native), 1440 by 852, 1280 by 1024, 1280 by 800, 1152 by 720, 1024 by 768, 1024 by 640, 800 by 600, 800 by 500, 720 by 480, and 640 by 480 pixels at 16:10 aspect ratio; 1280 by 1024, 1024 by 768, 800 by 600, and 640 by 480 pixels at 4:3 aspect ratio; 720 by 480 pixels at 3:2 aspect ratio
Display Modes: Dual display extended and video mirroring
Display Connection: dual-link DVI and S-video (VGA and Composite with adapter)
Expansion Slots: Single Type I or II (CardBus compliant)
Expansion Bays: None
Hard Drive Bus: Ultra ATA/100 (ATA-6)
Motion Sensor: Sudden Motion Sensor (SMS)
Backup Battery:—
Power Adapter: 65 W Apple Portable Power Adapter
System Battery: 58 Wh Lithium Ion (M9326G/A)
Battery Life: Up to 5.5 hours
Max Watts:—
Line Voltage: 100-240V AC
AirPort: Built-in AirPort Extreme card (802.11b/g)
Bluetooth: Built-in Bluetooth 2.0 + EDR
Ethernet: 10/100/1000BASE-T (RJ-45)
Modem: 56k v92
ADB: None
Serial: None
SCSI: None
USB: 2 - 480 MBit/s
FireWire: 1 - 400 MBit/s, 1 - 800 MBit/s (14W total power)
Security Slot: 1 - Kensington cable lock
Audio In: 1 - 3.5-mm analog/optical combo jack, Built-in microphone
Audio Out: 1 - 3.5-mm analog/optical combo jack, Built-in speakers
Timeline
Introduced in October 2005, the PowerBook G4 (Double-Layer SD) was discontinued, along with the rest of the PowerBook line, in February 2006.
Videos