Macintosh DuoDock Plus/II
Introduced: May 1994
Terminated: July 1995
Description
The DuoDock Plus and DuoDock II were the same except for the fact that the DuoDock II had a 68882 FPU. Both upgraded on the original DuoDock with an Ethernet port and increasing the VRAM to 1MB.
History
Like the original DuoDock, the DuoDock Plus and DuoDock II allowed PowerBook Duo owners to use their portable computers as desktop computers.
Photos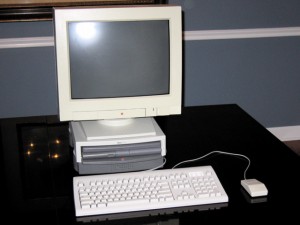 Specifications
Processor: None
Processor Speed:—
Coprocessor: None (DuoDock/Plus) Motorola 68882 FPU (II)
Cache:—
System Bus:—
Hard Drive: Optional 230 MB
Media: 1.44 MB floppy
Weight and Dimensions (US): 13.1 (DuoDock) or 13.5 (Plus/II) lbs., 4.8" or 5.1" H x 12.3" W x 16.3" D
Weight and Dimensions (Metric): 5.9 (DuoDock) or 6.1 (Plus/II) kg, 12.2 or 12.9 cm H x 31.2 cm W x 41.4 cm D
Original Mac OS:—
Maximum Mac OS:—
Firmware: Macintosh ROM
Logicboard RAM: 4 or 8 MB
Maximum RAM: 36 or 40 MB
Type of RAM Slots: 1 - PowerBook 53xx
Minimum RAM Speed: 70 ns
Interleaving Support: No
Graphics Card: None
Graphics Memory: 512 KB (DuoDock) 1 MB (Plus/II)
Built-in Display: None
Resolutions:—
Display Connection: DB-15
Expansion Slots: 2 - 15W or 1 - 25W NuBus cards
Expansion Bays:—
Hard Drive Bus: IDE
Backup Battery:—
Power Adapter:—
System Battery:—
Max Watts: 75W
Ethernet: None (DuoDock) AAUI-15 (Plus/II)
Infrared: None
Modem: None
ADB: 1
Serial: 2
SCSI: HDI-30
USB: None
FireWire: None
Audio In: 1 - 3.5-mm analog input jack
Audio Out: 1 - 3.5-mm analog output jack, 1 - Built-in speaker
Timeline
Both the DuoDock Plus and DuoDock II were introduced in May 1994 and discontinued in July 1995.
Videos