iMac G5 (20" iSight)
Introduced: October 2005
Terminated: January 2006
Description
With a bump in speeds, and a few other new features, the new release of the iMac G5 was available in two configurations. The low-end configuration had a 17" LCD, ran at 1.9Ghz, had a 160Gb hard drive and a SuperDrive. The high-end configuration had a 20" LCD, ran at 2.1Ghz, had a 250Gb hard drive and a SuperDrive. Both models were the first Mac computer to have a camera, the iSight, integrated in the design.
History
The iMac G5 (20" iSight) was a speed bump on the original release of the iMac G5. In addition to the new iSight camera, it had a remote control and included Front Row software that allowed the computer to be used as a media center.
Photos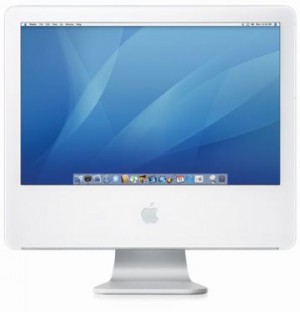 Specifications
Processor: PowerPC 970fx (G5)
Number of Cores: 1
Processor Speed: 2.1 GHz
Benchmarks: 2.1 GHz: 1229
Cache: 64 KB (instruction), 32 KB (data) L1, 512 KB backside (1:1) L2
System Bus: 700 MHz
Hard Drive: 250 or 500 GB 7200-rpm
Media: Slot-loading 8x SuperDrive (DVD+R DL/DVD±RW/CD-RW)
Peripherals: Apple Remote, Apple Keyboard, Mighty Mouse
Colors: White
Weight and Dimensions (US): 22 lbs., 18.6" H x 19.4" W x 7.4" D
Weight and Dimensions (Metric): 10 kg, 47.2 cm H x 49.3 cm W x 18.9 cm D
Original Mac OS: Mac OS X 10.4.2 (8E102, 8E104)
Later Mac OS:—
Maximum Mac OS: Latest release of Mac OS X
Hardware Test: AHT (iMac G5/eMac) 2.5.3
Firmware: Open Firmware
Firmware Update: None
Logicboard RAM: 512 MB
Maximum RAM: 2.5 GB
Type of RAM Slots: 1 - 240-pin PC2-4200 (533MHz) DDR2 SDRAM
Minimum RAM Speed:—
Interleaving Support: No
Graphics Card: ATI Radeon X600 XT
ATI Card Model:—
Graphics Connection: PCI Express
Graphics Memory: 128 MB DDR
Built-in Display: 20-inch LCD 280 cd/m 800:1 contrast ratio
Resolutions: 16:10 aspect ratio: 1680 x 1050, 1344 x 840, 1280 x 800, 1024 x 640, 840 x 524, 800 x 500 4:3 aspect ratio: 1024 x 768, 800 x 600, 640 x 480
Display Modes: Video mirroring only
Display Connection: 1 - Mini-VGA (Composite and S-video with adapter)
Video Camera: Built-in iSight
Expansion Slots: None
Hard Drive Bus: 1.5 Gbps Serial ATA (SATA)
Large Drive Support: Yes (128 GB or larger per drive)
Optical Drive Bus: Ultra ATA/133
Backup Battery: 3 V Lithium (922-6476)
Max Watts: 180 W
Line Voltage: 100-240V AC
AirPort: Built-in AirPort Extreme card (802.11b/g)
Bluetooth: Built-in Bluetooth 2.0 + EDR
Ethernet: 10/100/1000BASE-T (RJ-45)
Modem: Optional Apple USB Modem (MA034Z/A)
USB: 3 - 480 MBit/s
FireWire: 2 - 400 MBit/s (8W total power)
Audio In: 1 - 3.5-mm analog input jack, Built-in microphone (24-bit 96KHz sample rate)
Audio Out: 1 - 3.5-mm analog/optical combo jack, Built-in speakers
Timeline
Introduced in October 2005, the iMac G5 (20" iSight) was discontinued in January 2006 to make way for new models.
Videos