Professional Slideshow Presentations with FotoMagico 3.5
Software solutions for creating photo slide shows range from Apple's iMovie and iPhoto to the web application, Animoto.com. But the latest 3.5 update of Boinx Software's FotoMagico for Mac users seems to offer the most advanced features for creating slide shows, faster and more efficiently.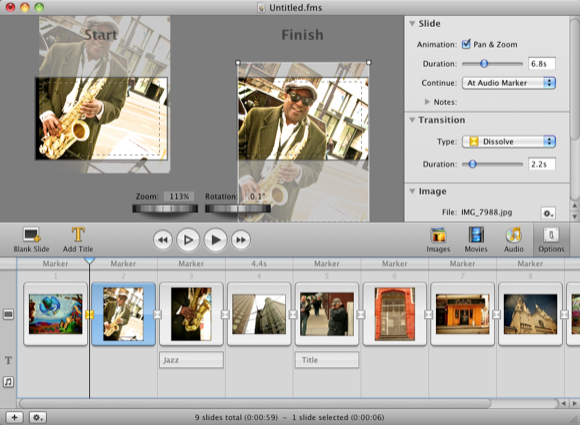 Perhaps the most welcome new feature of FotoMagico is the Instant Slideshow Assistant. After selecting and importing images and music for your slide show, the Instant Assistant allows you to select the basic speeds for slide durations, transitions, and animations. This saves you the time of having to go through individual slides and applying settings.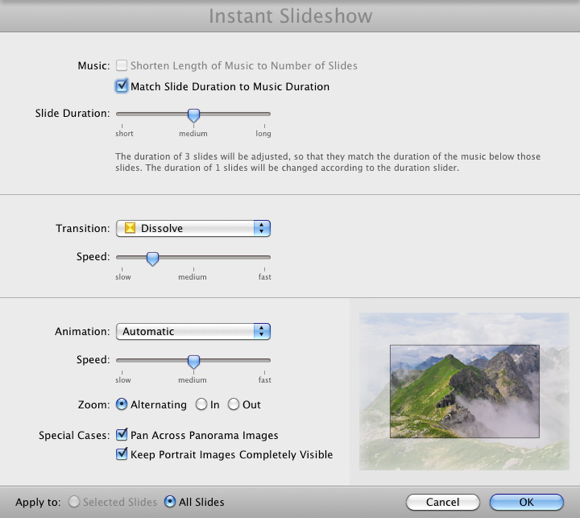 However, if you have any experience with automatic slide show features, say iPhoto, you should know that automatic settings can't detect the visual content of your images. Just the other night, I covered an event at which the organizers tried to quickly import several dozen slides into iMovie '09 using the Ken Burns panning effects and automatic settings. When they presented the slide show to the audience, the zoom and panning animations cut off the heads of nearly every person in each slide. After about 20 seconds they had to dispense with the show.
So while the Instant Slideshow feature in FotoMagico can be a useful start for a production, you need to preview and adjust settings so that the content of each slide is presented correctly.
FotoMagico's newer controls are very useful for applying settings and adjustments to single and multiple slides. You can copy and paste animations settings from one slide to the next, or between the start and finish of a single animation.
Likewise, you can copy and paste the geometry of a slide and apply its position, size, and/or rotation to one or more other slides. All this can be done using a drop-down context menu when you right- or Control-click on a slide. In my experience, these menu options are the most efficient way to edit and produce slide shows.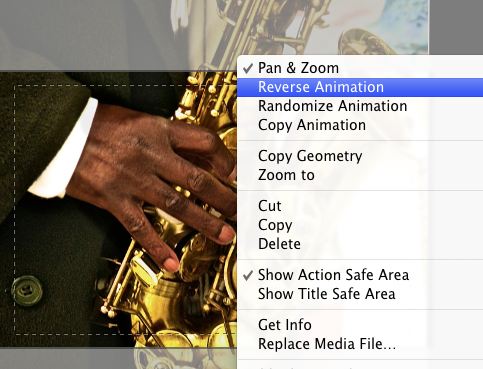 So for example, if the initial settings of a slide are to pan in on a subject, but you think it would look better if it panned out, then control click in the Storyboard and select Reverse Animation to switch the animation.
Similar to Apple's iLife program, FotoMagico includes three media panels for accessing all your images, audio and movies files on your hard drive. For some users, this may be a little disconcerting if you have to navigate through hundreds folders of media files stored on your computer.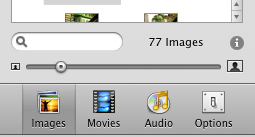 However, it is useful that the media browser of FotoMagico includes all media catalogs—not just the last one open and used. So for example, if you have two or more iPhoto or Aperture libraries they will all show up in the media browser.
Another useful 3.5 feature is the ability to add chapters to slideshows in FotoMagico. Chapter markers work like bookmarks for navigating between long groups of slides. These chapters, though, can't be used when a production is exported and authored in iDVD. They are only for editing purposes, not for presentation.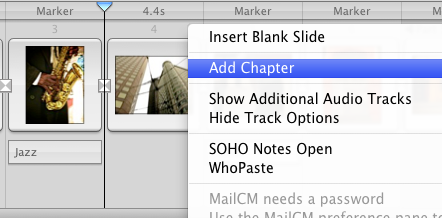 Titling
In terms of titling, FotoMagico allows much more control than what you find even in iMovie '09. You can zoom, rotate, and position the animation of titles anyway you want. Though creating a list of credits in FotoMagico might be a little more tedious than in iMovie.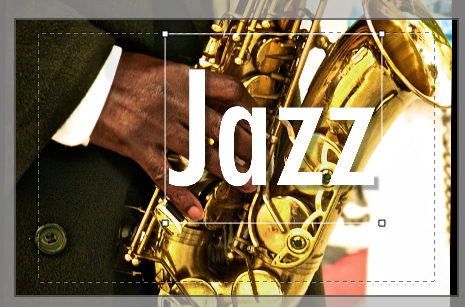 Audio Features
Boinx has also stepped up the pro version of FotoMagico to include voice narration and audio ducking, which work similar to iMovie and Garageband.

I also discovered that Apple's new Magic Track Pad works pretty well with FotoMagico. You can easily use the finger gestures for the zoom and rotation controls.

FotoMagico also includes several export presets, including YouTube, DVD, Screen Saver, and iPhone, for rendering and sharing your slide shows. The HD Movie provides the best export quality, but if you plan to use the resulting file on your mobile device, it will take up a significant amount of memory.

Home vs. Pro Version
The pro version of FotoMagico is $149.00 and the regular version is $29.00. If you're a pro photographer, you will definitely want to get the pro version of the program, for the Home version is definitely stripped of features—e.g., no integration with Aperture and Lightroom libraries, no narration recording and ducking, and no exporting to HD Movie. You might even conclude that the Home version of FotoMagico is not much better than using iPhoto and iMovie's slide features; but the professional version gives you a lot for the money.