Panther: All Metal All The Time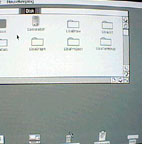 The primary ingredients of the Apple interface have not changed since Lisa. Take a look at the screen shot to the left. We've got, for lack of a better word, windows. We've got icons. Nothing substantial has really changed since Lisa to the metaphor of the interface we use day in and day out. Yes we now have windows that swoosh and swirl and, thanks to the coming Expose, windows that are better organized but essentially the beast hasn't changed.
We've gone from plain windows to platinum to striped windows and windows with drop shadows. From a simple button to a button with outlines to now a window with throat lozenge like throbbing. But still the metaphor is all the same—its all window dressing.
Which brings us now to metal. Somehow, and in the most inconsistent way, metal has come to take over the Macintosh windowing environment. Like some bad Kaleidoscope theme gone awry Panther uses metal windows in the desktop. Metal, apparently, is the new plastic at Apple. Having purged the powerbook line-up of plastic and recently making the G5 all metal, its all metal all the time. That the material on the outside of the machine is now informing the look and feel on the interface is, in some ways, a nice case of design synergy. Why shouldn't the interface reflect the materials on the outside?
Well for one thing because it just doesn't make any sense. Metal on the outside is good for strength and durability. Last time I checked metal doesn't help pixels last any longer so why should it be on the interface? My guess is because Steve Jobs thinks its cool. Well, Steve, it may be to you but it's not to me. And I'm fine that you think metal windows are swank but don't force them on Apple users.
I'm not asking for Kaleidoscope or any other themed programs. They are inherently tacky, take up system resources, and crash. I'm asking for Apple sanctioned and created desktop themes. Let's actually called them variants—themes sounds too close to Kaleidoscope.
The variants should be subtle. Want metal windows, fine? Want just plain white windows? Fine too. Perhaps a little hint of gray or, if you want, some stripes. Apple should provide these subtle user options in the final release of Panther. Having metal only windows is like giving user only one sound (the clang of a foundry would be appropriate, I suppose) and not giving us any other options.