Leopard All Spaced Out
On Monday AppleMatters.com reported to you the latest goings on at WWDC 2006. Steve Jobs and his pals, Phil Schiller and Scott Forstall (VP of Platform Experience), announced to the world the latest gadgets, gizmos and software to the world, except there wasn't a lot to talk about on the gadgets and gizmos front.
The main things mentioned were:
The Intel transition has done incredibly well, with Macintosh sales for the last quarter reaching 1.3M, a growth rate which was much faster than PC sales—something to be proud of
The brand new PowerMac Mac Pro, which is now rid of the aging G5 processors and well equipped with Intel's Xeon 'Woodcrest' chip-set, running up to 3Ghz
The new xServe running on Intel chips, now 5.4 times faster than their predecessor
And of course, Leopard—the one we've all been waiting for
Steve Jobs and co. announced only ten major changes and additions to Leopard, from Tiger, at WWDC '06, with a clear attempt to prevent other sources from pinching a few ideas by stating they were keeping the rest under wraps. However, some of those ten are another example of why Apple will one day lead in the computer industry—innovation just appears to be second nature to the company.
Along with Accessibility, iCal, Spotlight, Dashboard, iChat and Mail all receiving noticeable and well appreciated changes, OS X is about to see three more innovative ideas hit the scene. I was impressed by Time Machine, especially with the ease of use and the obvious aim at novice computer users to backing up their systems, I'm quite impressed with Core Animation, which doesn't appear to have too much to it other than to create fancy animations, but I'm very impressed by Spaces, an idea which we have all thought about at one point, but have never seen implemented into an operating system.
What Is Spaces?
Although details are still somewhat sketchy at present, Spaces is the new feature in OS X Leopard which will aid and speed up busy Mac users throughout the world. The idea is simple, and as simplicity is genius, I can only call Spaces an act of genius.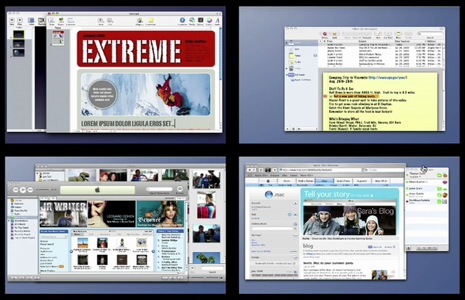 Spaces is an 'extra', if you will, of Exposé. You're able to create a number of new desktops, or spaces, on your computer allowing you to organize your computing environment. Let's say you've got a variety of programs opened which you're currently using. It's cluttering up your desktop a bit, isn't it? Then create some space and spread your work load out. Stick all your communication programs in one window, all your music programs in another and perhaps slap your web browsing tools, Safari and an RSS client perhaps, in another. Suddenly your desktop has become a little more bearable and it takes no effort at all. It's also a easy moving programs from one window to another by simply dragging and dropping. Something to show off to your friends, eh?
By using a simple hot-key combination, it appears that switching between windows is a piece of cake as well. Not only that, you can also view all the spaces you've created in a birds-eye-view with another hot-key, allowing you to quickly select which one you want to work on, or giving you the opportunity to re-arrange your spaces so that you can stick the most predominately used ones together.
Bad For Competition
It's an idea that we've all thought about at one point and for many it involved erecting another monitor to actually create two desktops. I doubt this will completely eradicate that situation, as a lot of the time dual monitoring is required for larger graphics or video editing, but for the average joe and Mac business folks Spaces is going to completely change how we organize our computers.
On another note, this is where I think competition, such as Microsof, is really going to begin to struggle with Apple. At present, Windows would be far too difficult and messy to code to get something on this scale to work, especially considering Windows is a huge mess as it is (Vista). With Apple developing software to really appeal to a wider audience, I don't see how Microsoft can compete much further without completely redeveloping its operating systems. Time Machine is going to completely change the way users back up their data, regardless of other hardware required for it to work. Dashboard, which now includes a 'simple-do-it-yourself-dashboard-developers-kit' aimed at novice users, is going to become a great tool for people to interact with others - think of how many more widgets are going to be created and offered for download? So many users out there with brilliant ideas who couldn't implement them before because of coding. Dashboard's DIY Widget kit scrubs all the coding you hate.
iChat is an even easier way to remote desktop with other Mac users, Spotlight allows you to quickly open up applications, much like Quicksilver does at present, and don't get me started on the Text-To-Speech update found in Accessibility. Can Microsoft offer something as powerful as this? I don't think so.
Space And On
Although the main feature that's really got me excited is Spaces, I'm enthused by everything else Apple have shown in Leopard so far and with them admittedly hiding something from competition, it only leads to speculation of what more exciting features are going to be uncovered from Leopard as time goes on.
Lastly, Apple announced Mac OS X 10.5 Leopard will be released in the Spring of 2007.