iPhoto's Flickr and Facebook Export Feature
If you're a regular Flickr.com or Facebook.com user, you no doubt use some sort of uploading client to post your photos to your account. The latest upgrade of iPhoto '09 includes built-in Flickr and Facebook exporting features that are useful but very incomplete. The export buttons are found in iPhoto's toolbar, and they work similarly to the MobileMe web gallery features of iPhoto.

When you click on the Flickr or Facebook button, you are invited to select how you want to share your selected photos and what size you want them to be. The first photos you upload will constitute an album on your Flickr or Facebook account. You can't upload to your existing albums on your Flickr or Facebook account. But once you create a new album using iPhoto's export feature, you can simply add new photos to it as you would any other iPhoto album or you can create new albums for new images.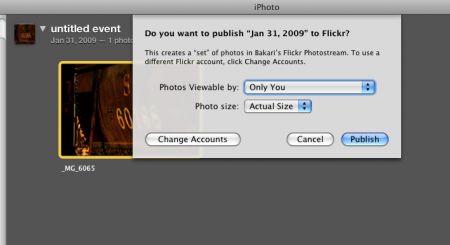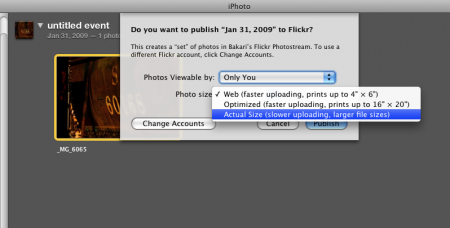 Connected Flow's FlickrExport
This new Flickr/Facebook export feature is slightly better than using Connected Flow's popular FlickrExport plug-in for iPhoto in that you can upload selected photos right within the application's main interface. With FlickrExport, you have to open the plug-in using File>Export. But on the other hand, FlickExport has additional options that don't exist in iPhoto '09's export feature. With FlickrExport, you can select an existing album and Flickr group on your account. You can also add Flickr tags to your photos from within the plug-in or select your existing one.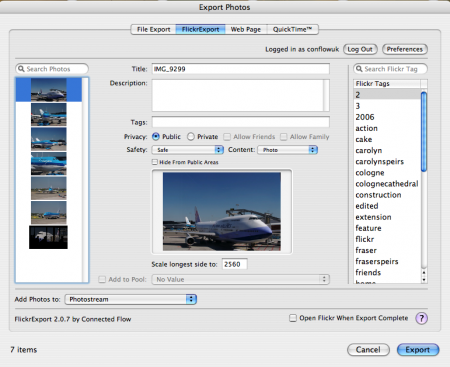 However, as a daily Flickr user, I find both export tools limiting. A full featured (e.g. professional) export application would include ways to upload photos to more than one existing album and Flickr group at a time. And because many dedicated Flickr users are members of several dozens of groups, there should be a way to select and create a panel list of favorite and most often accessed groups to add images to. There should also be a way to download photos from your Flickr account into your iPhoto or Aperture library.

Flickery
The closest full-featured application that I know of in this regard is Eternal Storms's Flickery. You can access all your image files on your computer, including your iPhoto and/or Aperture library. After making image selections, you can indicate which Flickr sets you want your photos to go to, as well as apply your Flickr tags to each or all your selected image files. So basically, Flickery is a client-side application for your Flickr account. You can not only upload photos through the application, but you can download photos from your Flickr account into iPhoto, as well view your previously posted images and sets, plus the photos of other Flickr members including your contacts. In this regard, Flickery outshines both iPhoto and CoverFlows's export tools. Except for not being able to add photos to your Flickr groups, Flickery enables you to complete your uploading process without having to visit the site itself. So this public beta application has a lot of promise for us dedicated Flickr users.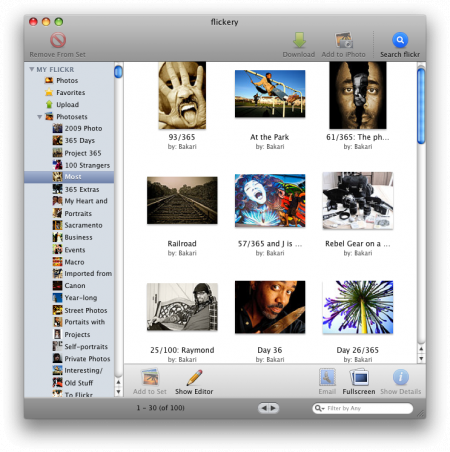 Additional Flickr Resources
If you're looking for additional resources for Flickr, check out Flickrbits. It's an awesome set of links to official Flickr applications; mobile, Mac, Linux, and Windows applications; developers' tools, and plug-ins and extensions.