ImageWell: A Bloggers Dream
For those of you out there who own blogs, a website, or anything else that requires you to take screen shots or do some minimal image editing for school or work, ImageWell is the application you need. Available for free download from http://www.xtralean.com ImageWell has recently been updated and is now a universal application so it can run on both PowerPC and Intel processors.
For some time I had to put up with constantly opening and closing Adobe Photoshop in order to edit my images, especially for my website and any blogs I own. There's not a lot wrong with Photoshop, but it is rather over-kill for a task so small. So what's a guy to do?
After hearing that Xtralean Software had updated its ImageWell, I decided to download and test it. So far it seems to be free, very fast and bugless.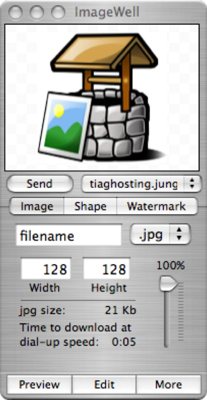 As you can see from the screenshot, it's a very small application, but with a big heart, full of excellent tools that allow you to do things that, yes, can be done in Photoshop, but in about half the time.
Images
Simply drag an image, any image, into the window (currently with a Well in it) and then begin editing. You're able to adjust the size, change the file name and change the image format. You also have the ability to upload the image straight to a webserver as ImageWell has a basic FTP client built into it, all in the space of a matter of seconds.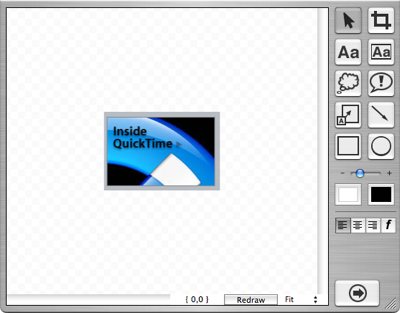 After an image has been loaded, clicking on Edit gives you the option to add text (as well as formatting) to your image, labels with arrows, shapes, colors and of course, the crop tool—something I know a lot of bloggers couldn't live without.
The preview screen is pretty impressive as well. Not only do you get a preview of the image you're working on, you can adjust Image quality (just as in Photoshop) as well. I'd also like to point out this can be done from the 'More' tab as well.
Shapes
A feature I'm not particularly keen on, but still useful to some, is the ability to change the shape of your image. With the click of a button, you can change the shape of your image to a heart, for example. I suppose this might be useful to someone who wanted to put their face inside the shape of a heart to send to a loved one. You could even add some text that said, "Incredibly Cheesy" afterward, but that is down to personal preference.
Watermark
Above all though, a feature which I'm really pleased to see in an application like this is a Watermark tool. This allows you to add text over an image, normally the name of the website to claim copyright on that image. It's excellent for stopping someone from stealing images off your site, and is especially useful for anyone who sells images/logo's online.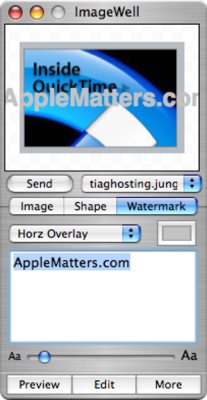 There are a few options within ImageWell that might come in handy for some users. You can prevent ImageWell from sending images to your webserver if they are over a certain size, so if you know you have to stick to a scale of about 400 x 320, you can tell ImageWell and it'll do so. I'd like to point out though, that when I tested this feature, it didn't work too great as it still sent the image to the server at a size over that of my limit.
If you don't want to send any images to your webserver, you can simply save it to your hard-drive allowing you to do what you want with it afterward.
Summary
All in all, the program is incredibly basic when compared to Adobe Photoshop or Corel Painter, but it wasn't designed to replace those programs. It's excellent for anyone who wants to quickly edit an image and upload it to their website. In the past week, I've not once used Photoshop to edit any images for websites and blogs as I've been using ImageWell the whole time.
As I said before, the program is available for free download and is a small file size, so you can't go wrong in giving it a try.