Decode Your Digital Photos with Reveal
I like iPhoto. It's hard to find someone who doesn't. But it's still got it's shortcomings. One of them is that when you click "Get Info" on a photo, well, you don't always get enough info, and what you do get can be confusing. Enter Reveal, a cross platform, photo-data viewer.
First a little explanation. All photos taken with digital cameras have recorded with the image, special information called EXIF data. Without getting into technicalities about what EXIF data is all about, it simply means the camera records useful information you can later refer to, such as camera model, date and time the photo was taken, white balance setting, shooting mode, aperture, ISO, shutter speed and so on.
Reveal presents that information in a much more easily understood way.
Comparing Reveal and iPhoto's Get Info
Let's compare the screens from Reveal and iPhoto's Get Info.
Firstly the summary information.
Here's Reveal's: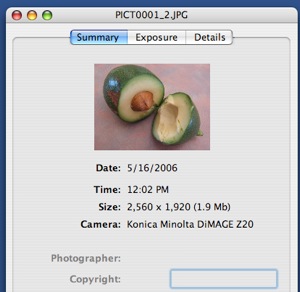 And iPhoto's: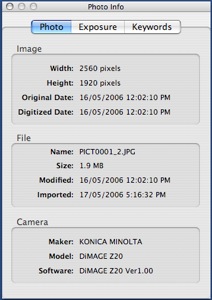 Not a lot of difference, as you'd expect. A little more on iPhoto's but that info is available on Reveal's Details page. Reveal's page is more appealing to the eye.
Next we look at the Exposure information. Firstly from Reveal: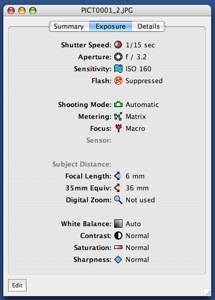 And from iPhoto: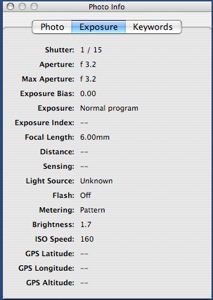 Immediately you're struck how much more visually appealing Reveal's interface is, which greatly helps make more sense of the information being presented. Reveal identifies the difference between the Flash not firing, and being suppressed. The identification of the Focus type is also quite useful as well.
In iPhoto, the White Balance is the "Light Source" value, which is displaying unknown in my example. It does correctly display when I use one of the presets, such as Daylight or Fluorescent. Also, iPhoto incorrectly labels the Auto Shooting Mode "Normal Program".
The only advantage iPhoto's Exposure page offers over the Reveal's, is the inclusion of the Exposure Bias. The inclusion of GPS info is a bit contradictory, as that is information at this stage, only recorded on very high-end cameras, yet iPhoto seems to be aiming at the beginner to amateur.
Significantly, at this point, you've reached the end of the information iPhoto provides. That may be enough information most of the time, and that is Apple's way and I understand why they do that (except for the GPS info). But if you are somewhat of a photo buff and want more information, Reveal provides it, giving in its Details page, all the EXIF data for the image, albeit, in it's raw format.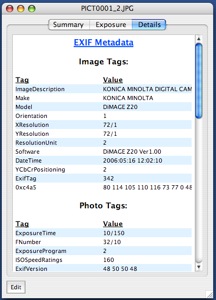 One other handy feature of Reveal is, it allows you to edit the data on the Summary and Exposure pages. Generally you shouldn't need to, but you may find it useful to add the photographer's name and copyright, and, for the professional, the subject's distance.
Overall
Reveal is both more useful and more friendly than Apple's offerings in iPhoto, Preview and Finder. It is useful to the professional, amateur and even the beginner. At no charge, there's no reason not to add it to your photo toolset. Highly recommended: 9/10