7 Things Apple could Learn from Windows 7
Windows 7 is a curious product from the curious company in Redmond. First of all the name? We went from Windows 95 to Windows 98 to Windows 2000 to Windows XP to Windows Vista (nee Longhorn) and now to 7?! I mean Apple's product names, Tiger, Leopard, etc. are goofy but at least there is a logic.

And then there is the fact that Windows 7 is essentially Microsoft admitting that they really screwed up with Vista.

Leaving the above painfully obvious, and obviously painful observations above aside when looking at Windows 7 on its own merits there are some things from it that Apple could learn. Here they are in no particular order:

1. Speed is King

Windows 7, which I've run under Fusion, is blazingly fast. It is faster than OS X by my experience and, most importantly, it is consistently fast. It amazing me to this day that the Beach-Ball is still with us is OS X. Yes, it is no where as nightmarish as it was pre-Leopard but it still with us. The user experience in Windows 7 is just plain quick across a variety of applications. This gets to item #2.

2. Develop for the Lowest specs

Windows 7 has been built to be NetBook friendly. I won't delve into the great NetBook debate here but this is a very smart move on Microsoft's part. Instead of designing an operating system for the biggest and fastest systems and then stuffing in to low-end systems Microsoft has chosen a different approach. This speaks to one of my greatest issues with the OS X roadmap. To my mind each iteration of the operating system should work better on older hardware than the older version of the operating system. I know this may be ridiculous from a profitability standpoint but step back and think for a second. We have all come to accept that the opposite is the case, but it really shouldn't be. As more and more device-types come into existence (forgetting the fact that Apple would have to build said devices) having a lean and mean operating system that runs lightening fast underneath it all makes a lot of sense.

3. The Dock

I happen to think the Window's 7 dock is ugly. In fact I think the whole GUI of Windows 7 is ugly in a particular kind of ugly aesthetic that I call Microsoft Design (an oxymoron if there ever was one). But if you abstract the user interface and view it as a series of wireframes there are some things to be learned.

One is that you can see how many documents are open with a particular application, a subtle, but helpful addition to a dock.

Even more powerful is the fact that you can get live preview of the different documents open, without having to go tot he application.

Windows 7 packs a lot into the dock in terms of information feedback. If you are downloading a file a status bar will show up in the dock. Handy.

Finally the dock is nicely integrated into the whole UI unlike in OS X where you have a lot of wasted pixels.

Macdock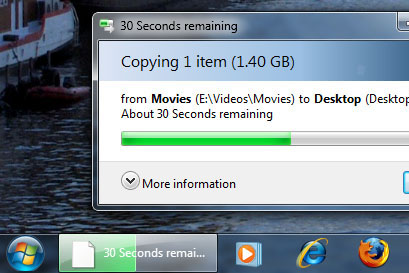 Windows 7 dock with status bar integrated

4. A more powerful finder

There are countless hidden gems within Windows 7 that Apple's Finder could make use of. They make for a much more sophisticated and powerful user experience, some examples.

A kick-ass move and replace window that allows you to move, replace, or create a new file. Very smart.

When you move a document into a folder you can toggle between various keys to copy, create alias, or move.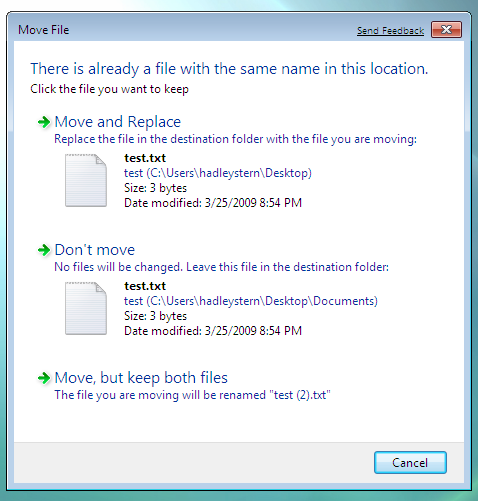 5. Location Aware Printing

Windows 7 will know which network you are on and will switch automatically to the default printer on that network without you doing anything. In this day and age of laptops being used at hos, and an interesting one, where there is a minimized state that can't be adjusted. Windows 7 takes it back to how it should be, and that is Gadgets are freeform.

7. Native support for Blu Ray

Snow Leopard better have this and Windows 7 will. Native support for Blu ray.